With a My Account profile, you can add more devices to your existing Malwarebytes Premium subscription. This is a purchase which charges your payment option on My Account. Adding devices to a Premium subscription changes the renewal date to the date of the new purchase.
Buy more devices for your subscription through My Account
Log in to My Account.
Click the Subscriptions tab.
For the subscription you want to add devices, click the Buy more button below Available devices.

The Malwarebytes store opens in a new tab.
In the Quantity field of your subscription, enter the total amount of devices you want covered by your subscription. For example, if your subscription covers 1 device and you want to add another, your quantity would be 2.
Click Upgrade now.
Add a device to your subscription through the Malwarebytes app
You can also add devices to your Premium subscription in the Malwarebytes for Windows and Malwarebytes for Mac apps. On the program Dashboard, click Protect more devices as shown below.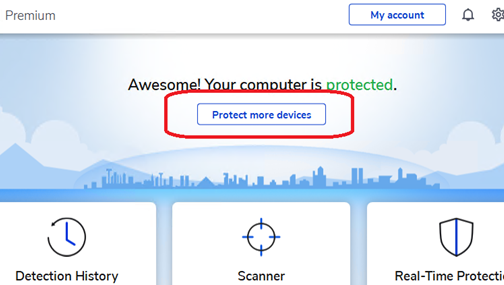 For Malwarebytes version 3, our older version, click the Protect Additional Devices button in the upper-right corner of the program Dashboard.