If you run System Restore on a computer with Malwarebytes for Windows installed, you may encounter the following error message.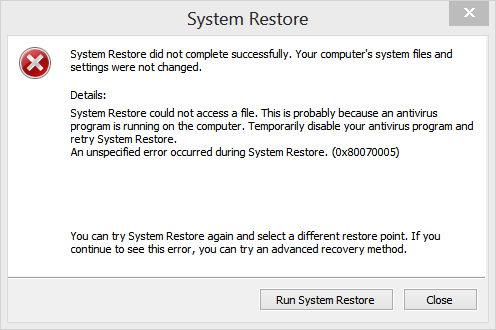 To resolve this conflict, disable the Malwarebytes for Windows self-protection feature and quit Malwarebytes for Windows.
Disable self-protection
Open Malwarebytes for Windows.
To the left of the window, click Settings.

Click the Protection tab.

Scroll down and click the Enable self-protection module toggle to turn self-protection Off.

When the User Account Control window appears, click Yes.

See the instructions below to quit Malwarebytes for Windows.
Quit Malwarebytes for Windows
Click the Show hidden icons arrow to display your hidden notifications.

Locate the Malwarebytes logo and right-click the icon.

Click Quit Malwarebytes.

Run System Restore again.
When you finish running System Restore, turn self-protection back on to protect Malwarebytes for Windows.
Note: If you are still encountering the System Restore error, there may be another anti-virus installed on your computer. Check with the other anti-virus vendor for a resolution.