Malwarebytes Browser Guard Allow list lets you specify website addresses you want to disable protection settings for. The Support screen displays other Malwarebytes company resources. You can access both of these screens through the kebab menu icon in the upper-right corner of the app screen. For Safari browsers, these screens are directly accessible from the main dashboard.

Allow list screen
The Allow list screen lets you add website address that you want to allow, or exclude, from Malwarebytes Browser Guard protection features. You might visit websites that you trust, but the app blocks content you want to view. You can add them to your list of allowed websites so you can access them as you want. To add a website to your Allow list:
On the Allow list screen, enter a website address you want to allow in the Add a URL or IP address field. You can click the icon to the right of this field to automatically add the address of the website you are currently on.
Use the Disable protections drop down menu to select one or more protection settings to disable.

Click Done.
You then see the allowed website added to the Allowed websites list. To delete all stored websites from the Allow list, click on the kebab menu icon to the right of Allowed websites, then click Remove All.

To remove a single entry, highlight the website with your cursor, then click the trash bin icon.

Support screen
The Support screen displays Malwarebytes resources such as the Malwarebytes Labs blog page, the main Malwarebytes website, the End User License Agreement, and Malwarebytes Browser Guard version information. The bottom of this screen has a check box to allow Malwarebytes Browser Guard to send telemetry information to us. The information you send us does not include any private or sensitive information. This information helps us better the protection provided by the app. You can un-check this box if you do not want to send us telemetry information.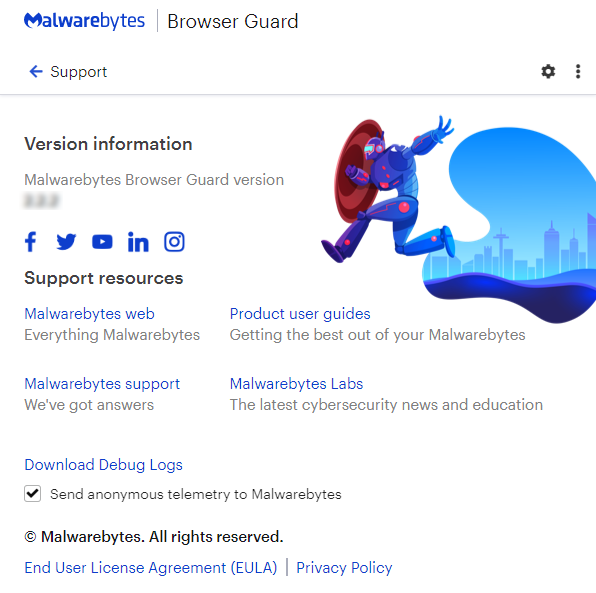 Download Debug Logs
Malwarebytes Support may require the debug logs from your machine to troubleshoot technical issues. If you have an open support ticket with us, the agent may request that you click Download Debug Logs on the Support screen to download the log file. Your agent will provide instructions for how to upload the file to Malwarebytes Support.
Return to the Malwarebytes Browser Guard guide.