The Notifications settings is a tab on the Settings screen in Malwarebytes for Windows. This section allows you to configure how and when Malwarebytes notifications display on your Windows device. If you have a Malwarebytes Premium subscription, you can also pause notifications from appearing while gaming, streaming, or presenting with the Play Mode feature. To view this screen, click the gear icon in the top-right corner of the Dashboard, then click the Notifications tab.
You can scroll through the Notifications setting to see several configurable items. Read further for a description of each.
Device Alerts
As a Malwarebytes for Teams customer, you can enable device alerts to inform you if one of your protected devices has a security issue that requires your attention. For more information, see Enable Device Alerts in My Account.
Notifications
Notifications regarding scans, real time protection, updates and subscriptions occur in windows at the lower right corner of your screen, outside of the Malwarebytes interface. You may enable or disable these notifications using the toggle switches. You may disable the following non-critical notifications:
Malicious Website Blocked
Malware Detected (auto-quarantine)
Non-Malware Detected (auto-quarantine)
Scan Complete with No Threats Detected
Some users intentionally turn off one or more real-time protection components. If real-time protection components and notifications are turned off, you may be unable to receive notifications about protection malfunctions.
Play Mode (Premium only)
Play Mode allows you to hide Malwarebytes notifications when certain programs are in use. We recommend turning on this feature during movies, gaming, and presentations. If you want to add an application to Play Mode, click Add. The Add an application window appears: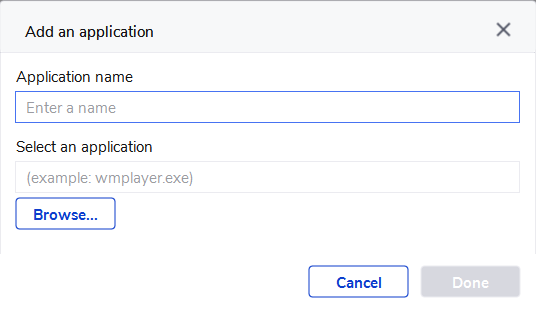 Enter the app's full path and file name into the Select an application field, or click Browse... and navigate to the file. You can then add a name in the Application name field to help you remember what the app is. When the added app is running and Play Mode is toggled on, Malwarebytes will not display notifications on screen. If a notification occurs that requires you to take action, Malwarebytes will delay the notification until you close all apps that are configured in Play Mode. You can Edit or Remove any apps you have previously added to Play Mode.
Return to the Malwarebytes for Windows guide.