Premium subscribers of Malwarebytes for Mac version 4 gain access to Malware protection and App block which stops malicious files from executing on your device. Both of these features protect your system in advance, before malicious files can cause damage. The Real-Time Protection card is located at the lower-right side of the program Dashboard.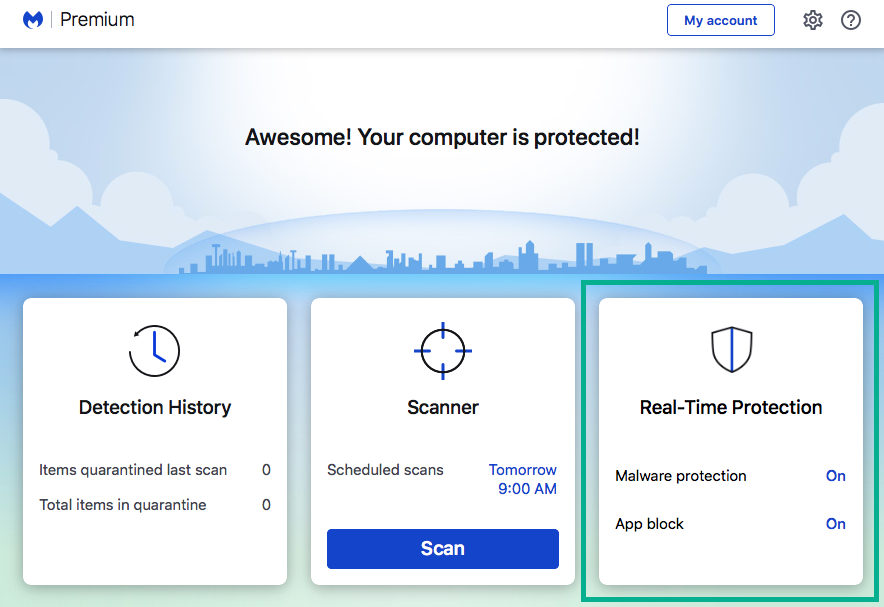 Protection layers
The Real-Time Protection card shows both protection layers that you can click to turn the features On or Off. If either of these layers are Off, the Dashboard prompts you to enable Real-Time Protection, or to upgrade to Malwarebytes Premium to activate these features. We recommend keeping them on to remain fully protected by Malwarebytes. The protection layers are available to Malwarebytes Premium subscribers and Malwarebytes Trial users. If the program reverts to the Free version, Premium dependent features will disable.
Both protection layers are described here:
Malware protection
This feature protects your computer against malware, as well as adware and PUPs, by monitoring the hard drive. If malicious or unwanted files are created or modified, Malwarebytes identifies and quarantines them by default. This is similar to running a scheduled scan, except that the files are caught immediately, rather than at some undefined time later.
When malware protection detects a threat, a notification appears like the following:

No further action is needed at this point, other than optionally clearing the quarantine in Malwarebytes.
App Block
App Block aims to completely block applications from known bad developers, preventing them from running at all. When an application is blocked, a notification appears providing the name of the application that was blocked:

In this case, the app is not quarantined, but is not capable of running. The advantage of App Block is that it can detect and block new apps from existing developers, even if they have not yet been seen by Malwarebytes researchers. We recommend you keep App Block enabled to remain protected.
Return to the Malwarebytes for Mac v4 guide