Premium subscribers of Malwarebytes for Windows gain access to multiple protection layers which actively stop threats. The Real-Time Protection card shows you each protection layer, switches to turn the features on or off, and protection statistics and news. Click this card from the main program Dashboard to view the following screen.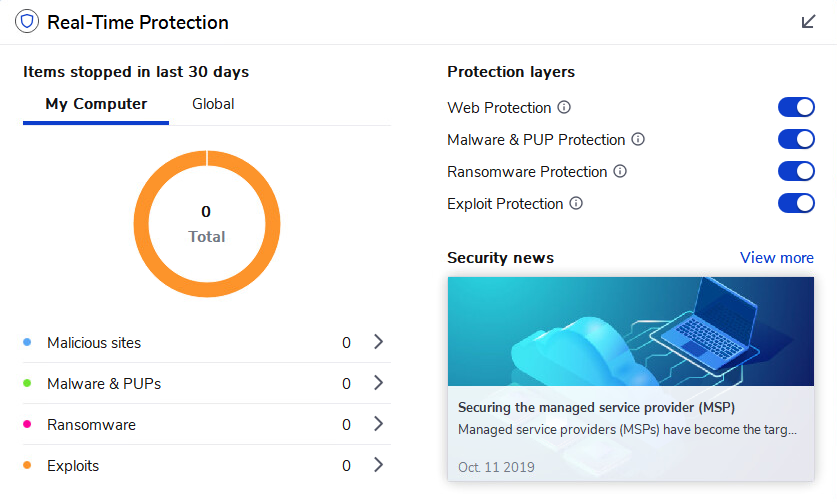 Protection layers
The Real-Time Protection menu displays each of the protection layers in the top-right. You can click on the switches for any of the protection layers to toggle them on or off. We recommend keeping them on to remain fully protected by Malwarebytes. Each protection layer is described here:
Web Protection: This layer protects you from online scams, phishing sites, and sites containing ransomware.
Malware & PUP Protection: This layer blocks malware, viruses, adware, potentially unwanted programs (PUPs), and other threats.
Ransomware Protection: This layer blocks malware that locks you out of your device and files, which then demands payment to restore access.
Exploit Protection: This layer blocks malware which seeks to leverage bugs and vulnerabilities in a system to allow the exploit's creator to take control.
The protection layers are available to Malwarebytes Premium subscribers.
Items stopped in the last 30 days
The left side of the Real-Time Protection screen displays all of the threats Malwarebytes prevented in the last 30 days. Select the My Computer tab to see the total threats stopped on your device, and the breakdown of each threat type prevented. Click one of the threat types to expand and view details on each detection. Click the Global tab if you want to view how many threats Malwarebytes for Windows has stopped around the world in the last 30 days.
Security news
The lower-right of the Real-Time Protection screen displays a recent blog article from the Malwarebytes Labs. Our blog articles update frequently to keep you informed on the latest security and malware news. Click the article thumbnail image to open the article in your web browser, or click View more to open the Malwarebytes Labs website.
Return to the Malwarebytes for Windows guide.