The Exclusions tab is a subsection of the Malwarebytes AdwCleaner's Settings screen. Exclusions allows you to exclude, or allow, items that you do not want AdwCleaner to scan. This article provides an overview of Exclusions, and how to exclude items from AdwCleaner scans.
Add or remove items from AdwCleaner Exclusions
The Exclusions tab allows you to exclude items from AdwCleaner scans. You can exclude the following elements:
Files
Folders
Registry Keys
Registry Values
Services
URLs
Processes
Detection Families
Excluding an element means that AdwCleaner will not scan or quarantine it. To add an exclusion:
Open AdwCleaner.
Click on Settings, then click Exclusions.

Click Add Exclusion. The Add exclusion window displays.
In the Add exclusion window, you can add either a Family of elements, or an individual Element.

If you select Family, type out the exact name of the detection family in the Name field. Then click Ok.

If you select Element, select the element type from the Element drop down menu. In the Content field, type the path you want to exclude. Then click Ok.

Items added to your Exclusions appear as a list on screen. If you want to edit or remove an item from your Exclusions list, click the checkbox next to the item, then click either Edit Exclusion or Remove Exclusion.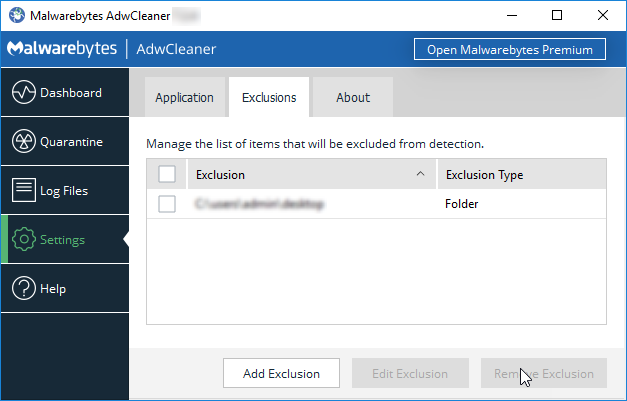 Return to the Malwarebytes AdwCleaner guide.